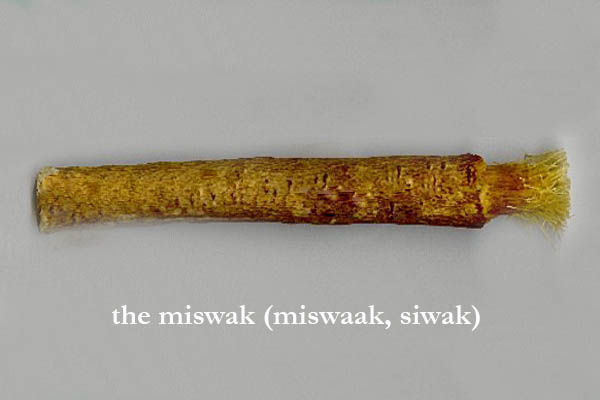 "Here, take this and make sure you brush your teeth well!" said my grandfather while handing me a piece of stick. Perplexed by the situation, I asked him what it was and with the same kind of confusion in his eyes, he looked at me and said "you don't brush your teeth my child?" It sounded just as odd to me at the time as it is going to sound to many of you reading this blog.
The piece of stick was none other than "miswak." Miswak almost seems to be a two-in-one kind of deal. It is a tooth brush and a tooth paste, all in a little magical stick. I am sure that many of you now are asking yourself the same question that I asked, "so, just how effective is it?"
Miswak is common and still used in the eastern world. It is still used by many on a daily basis. The biologic name for Miswak is Salvadora persica. According to the World Health Organization, miswak usage is recommended and encouraged for oral hygiene in areas of the world where such a practice is customary. Recently, a study was done in Saudi Arabia which measured the antioxidant capacity of miswak. It was found that miswak not only contains antioxidant compounds but also contains antioxidant enzymes. The synergistic action of the two is extremely beneficial for oral hygiene. The authors recommend use of miswak in foods and for chewing to enhance oral health.
It has been found that miswak has plenty of antibiotic and anti-fungal properties. Some research studies claim that miswak has antiplaque effects and can potentially have an impact on the pathogenesis of periodontal disease by reducing the periodontopathogenic bacteria (Saleh, and Khan). With increasing amount of evidence supporting the fact that this ancient practice is in fact worth a second look, it is no surprise that the extracts of this magical stick are now being processed and sold as a paste in tubes. If not as a primary oral hygiene mechanism, miswak is definitely worth considering as a supplemental source for enhancing oral health. So, ladies and gentlemen, next time you visit your local drug store for your xylitol gum, make sure you also pick up miswak.
Has anyone tried miswak? Tell us about it in the comments below!
~Dr. Namra Amin, Florida '13