To kick off ASDA's Week of Service, we are highlighting the achievements of the 2017 Dentistry in the Community Grant recipients. In February 2017, five chapters were awarded $500 each to develop and implement a program or event that focuses on the prevention of dental disease and/or the promotion of oral health for any underserved population within their community. Here, we're highlighting each of those events.
Stay tuned as ASDA will continue to feature community service events from other chapters via social media throughout the week. We encourage you to use these examples as a way to inspire your chapter to seek opportunities to serve at-risk or underserved populations in your community. Learn more about the Week of Service, part of ASDA's National Outreach Initiative.
Chapter: Arizona
Event Name: Ability 360 Oral Health Screenings
ASDOH ASDA worked with Ability 360, a local community center that supports people with disabilities. At their November oral health event, students provided free dental screenings, oral cancer screenings, fluoride varnish placement and goodie bags with items that patients could use at home. Many of the members were second-year dental students, and for some of them, it was the first event where they provided the screenings. Students appreciated the extra time spent learning more about their patients' struggles with oral health and access to care.
Chapter: Buffalo
Event Name: UB Dental Giving Back to Knox Community Table
In September, Buffalo volunteers cooked a meal for visitors of the Knox Community Soup Kitchen and provided education on which foods they should eat and which they shouldn't. By providing a balanced, oral health conscious meal, as well as oral hygiene instruction, ASDA members were able to bridge the importance of oral health and diet. Students educated this at-risk population and treated them with care and compassion, thereby giving Knox Community Table members a new outlook on their oral health.
Chapter: Midwestern-Arizona
Event Name: Phoenix Rescue Mission Community Market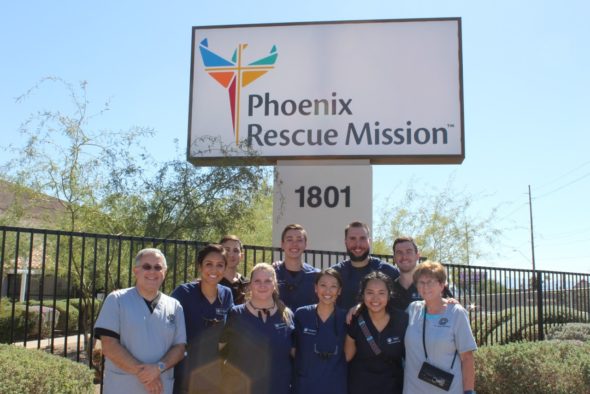 The Community Market event at the Phoenix Rescue Center is a twice-monthly event for the underprivileged where they receive food, clothing and supplies. This fall, a team of Midwestern-Arizona dental student volunteers provided attendees with head-and-neck exams, oral hygiene instruction and supplies, and placed fluoride varnish on people of all ages. Around 100 families were provided with care over the course of two events. The event was well-received and provided an invaluable experience for the student volunteers.
Chapter: Pacific
Event Name: Because Justice Matters (BJM) Family Oral Health Fair
In July, Pacific's ASDA chapter collaborated with other groups to host an oral health fair for the families of Because Justice Matters (BJM), a nonprofit organization in San Francisco that supports women and children who are survivors of domestic violence and/or sexual abuse. At the event, students tailored educational activities to each age group, using PowerPoint presentations and hands-on brushing and flossing demonstrations, as well as a "Dress like a Dentist" station. ASDA members also performed free dental screenings and provided a referral list of community dental clinics so that each attendee could access the care they needed.
Chapter: Roseman
Event Name: Smile Station
Roseman students hosted a fun, interactive night in September at the Utah Parent Center for families with special needs children. ASDA members coordinated an oral hygiene carnival for the children to play games that educated them about oral hygiene. The stations included: learning how to brush with puppets, a flossing station with toy building bricks and play dough (see image above), and a fishing game that taught healthy nutritional habits. After the carnival, children were invited to have an oral screening and fluoride varnish applied. Every child was given a dental goodie bag that included toothbrushes for special needs children and prizes.
Want to receive free oral health supplies for your next outreach event? Colgate, the sponsor of the National Outreach Initiative, is offering free oral health care kits to any chapter that requests them. Request your free supplies today.